b. 1974 Wakefield, UK
education:
1993 - 1996 BA(hons.) Fine Art Printmaking, Manchester Metropolitan University
1996 - 1998 MFA, University of Newcastle
2002 - 2004 Tamarind Master Printer, Tamarind Institute, Albuquerque, NM. USA
Website > Lee Turner
Lee Turner is the owner & Master Printer of Hole Editions. While spending the majority of his time collaborating with artists on their projects, he makes a few prints each year, usually for exchange projects or to hone his skills. He has works in thecollections of the V&A , The Smithsonian and MOMA Wales.
Most recent works are at the bottom of the page.
Click on thumbnails for larger images.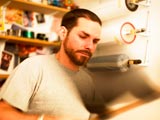 photo credit: sasasavic.com